Celtic Christmas Returns!
Online ticket sales are now closed.  Additional tickets will be available for purchase at the door.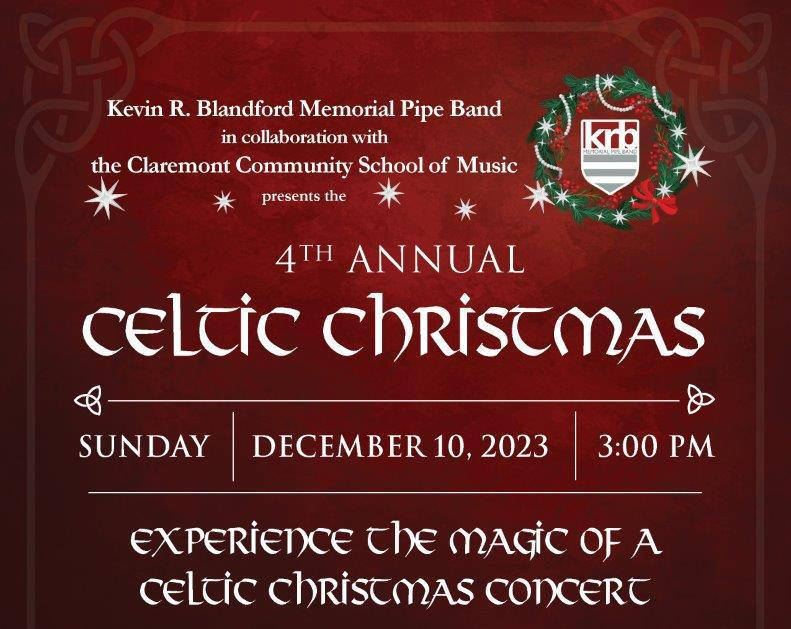 The Kevin R. Blandford Memorial Pipe Band and the Claremont Community School of Music are thrilled to announce that Celtic Christmas will be returning for the fourth time on December 10th at 3 PM Pacific, once again held at the Claremont United Church of Christ in Claremont, California.
Under the direction of Claremont Community School of Music's Executive Director, Matt Keating, this year's presentation will include arrangements for bagpipes and pipe organ by Jeffrey H. Rickard and Kevin R. Blandford accompanied by the talents of the Prelude Symphony Ensemble and the Glendora & Upland High Schools' Pipe Bands.
Tickets for Celtic Christmas are on sale now in the Blandford Bands' website store.
Ticket prices are $35 for General Admission, $30 for Seniors, $30 for Students, $20 for Children 5-12 years in age, and FREE for Children under 5.
More details will be coming soon as we polish off our preparations for this concert and will be shared here. We are looking forward to seeing everyone there!
Pub Night Fundraiser
We are pleased to announce a fundraiser to help get our Grade 3 band to Glasgow to compete at the World Pipe band Championships in 2024.
On November 30th from 6-9 PM the talented musicians of the Blandford Bands will be entertaining the guests at Nuno's Bistro and Bar in Upland.
For $40, you will get dinner, one raffle ticket, and front row seats to some of the most talented musicians in the Inland Empire.
In addition to the raffle there will be a silent auction!
We can't wait to see all our friends there and share the music we've been working on with you all, and give a short preview of what we will be playing at Celtic Christmas on December 10th.
Tickets are on sale now in the Blandford Bands' website store.
Piping and Drum Lessons
We have started a training program for bagpipers and drummers looking to develop their current skills or looking to learn. Sessions are held twice a week, Wednesdays from 5:15 – 7:15 PM for drummers at Upland High School, 6 – 8 PM for pipers on Zoom, and Sundays 12 – 2 PM at Upland High School. For more info or to sign up, reach out to: Alex and Tiana at piper.training@blandfordbands.org for the piping classes or Mario at drummer.training@blandfordbands.org for the drumming classes.
The Kevin R. Blandford Memorial Pipe Band was founded in 1974 as the City of San Bernardino Pipe Band. The current name was assumed in 2003 in honor of the late Kevin Blandford. The Band, under the direction of Pipe Major Alexander Walker and Drum Sergeant Carl McEntire, fields one competitive ensemble, a Grade III, and can be found performing at a variety of events in Southern California and across the United States. If you are interested in hiring the Band please visit our contact page.
The Kevin R. Blandford Memorial Pipe Band is a registered 501(c)(3) nonprofit organization with the IRS as R. P. Blandford & Son Pipe Band. All donations and purchases are tax deductible. For more information, please contact the Executive Board at: executiveboard@blandfordbands.org.