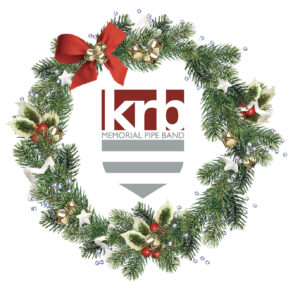 The Kevin R. Blandford Memorial Pipe Band is proud to announce the return of Celtic Christmas, its second Christmastime concert. The band will present an afternoon of bagpipes and drums along with special guest musicians and dancers at the Claremont United Church of Christ at 3:00 pm on Sunday, December 12th, 2021, in Claremont, California.
This is the sixteenth presentation of a concert by the Blandford Bands in memory of founding Pipe Major, Kevin Blandford. The band will present traditional bagpipe and drum music along with original arrangements for organ and bagpipes by Jeffery H. Rickard and Kevin R. Blandford. Matt Keating, director of the Claremont Community School of Music, will conduct the bagpipe, brass, and percussion ensemble to compliment the Church's Glatter-Goetz/Rosales organ.
Tickets are on sale now in the band's online store, or through your friendly local Blandford member.
The Kevin R. Blandford Memorial Pipe Band was founded in 1986 as the R.P. Blandford and Son Pipe Band. The current name was assumed in 2003 in honor of the late Kevin Blandford. The Band, under the direction of Pipe Major Martha Hall and Drum Sergeant Justin Hall, fields two competitive ensembles, a Grade 4 and a Grade 3, and can be found performing at a variety of events in Southern California and across the United States. If you are interested in hiring the Band please visit our contact page.
The Kevin R. Blandford Memorial Pipe Band is a registered 501(c)(3) nonprofit organization with the IRS as R. P. Blandford & Son Pipe Band. All donations and purchases are tax deductible. For more information, please contact the Executive Board at: executiveboard@blandfordbands.org.