New Leadership
Martha Hall and Justin Hall, the dynamic husband and wife duo, have decided to step down after leading the band for the past seven seasons so they may spend more time with their family. With this transition, Alexander Walker and Carl McEntire will step up as the new Pipe Major and Drum Sergeant, respectively. The transition was formalized at the band's Annual General Meeting in November, 2022.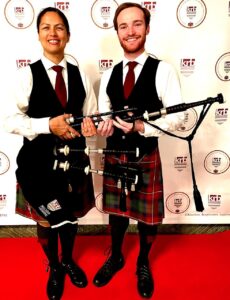 Alexander joined the band in late 2019 and has been Pipe Sergeant since January of 2021. This will be Alexander's first time leading a band to which he said: "I am beyond excited to lead KRB into its next chapter and couldn't be happier to be doing what I love with such a supportive, talented group of musicians.
"I want to sincerely thank Martha and Justin for everything they've done for the band over all these years. Carl and I are incredibly lucky to inherit such a strong program, and thanks to their efforts we are in an excellent position to keep pushing the band forward for generations to come." 
Martha joined the band in 1994 and had been Pipe Major since 2016, after holding many leadership positions within the organization over the years. She will remain with the band as Pipe Sergeant, saying "I am excited about Alexander and Carls' musical ideas and am really looking forward to supporting them to make these a reality. Really happy that I can spend more time with my family and can focus more on building the local Upland High School Pipe Band youth program."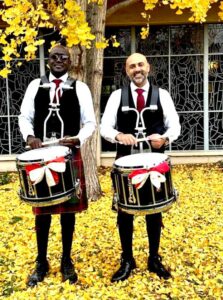 Carl is rejoining the band after 21 years away from pipe bands. He originally joined the band in 1997 and was Drum Sergeant in 1999. On his second opportunity to lead the drum corps he shared: "Justin and Martha have done a fabulous job leading this band and keeping us in competition ready form; I am inspired by what they have established and will continue their commitment to honoring Kevin's legacy." 
Justin joined the band in 1994 as Drum Major before taking up the snare drum in 1995. He was Drum Sergeant from 2002 to 2004, and again since 2016. Justin will remain in the drum corps saying "I am looking forward to using my experience to help Carl achieve the goals he has set forth for the corps."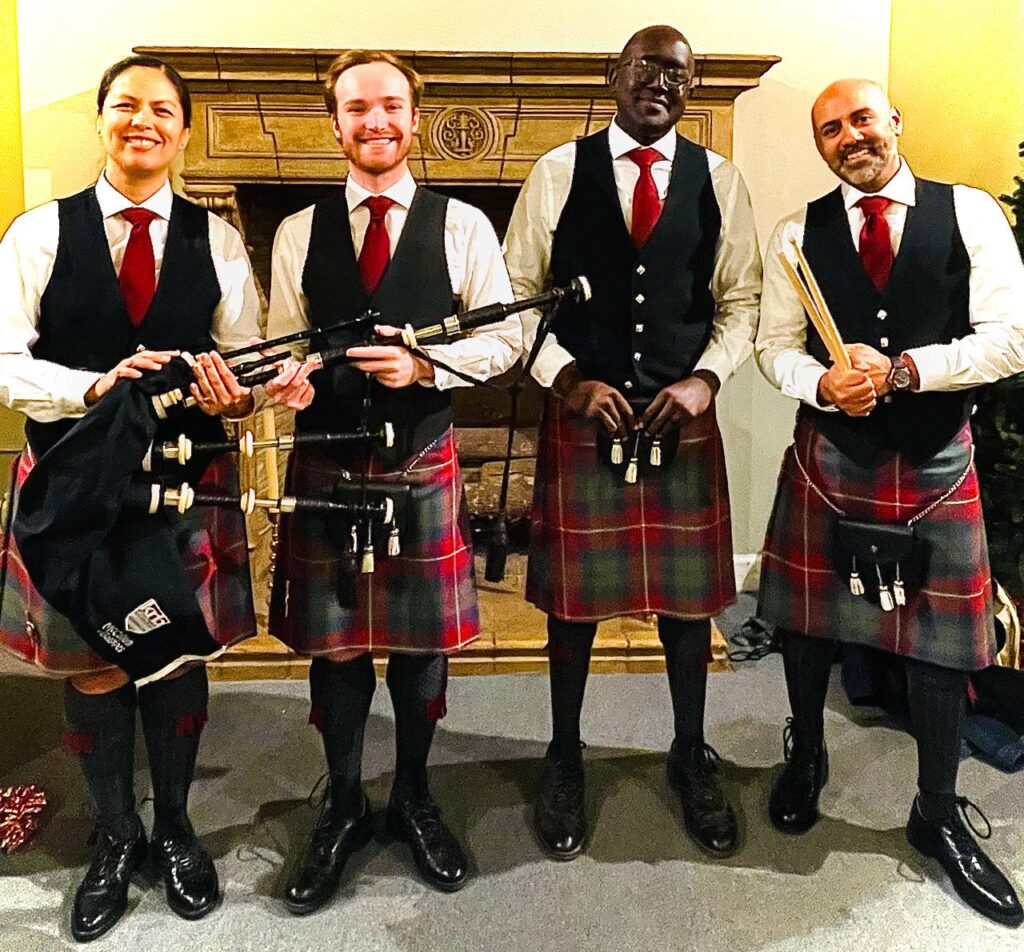 The band is excited to welcome back these long time members, thrilled to tackle the 2023 season with the new leadership, and eager to return to the Glasgow Green in 2024.
Drum Lessons
We are starting a training program for drummers looking to develop their current skills or looking to learn. Sessions will be held twice a week, Wednesdays from 3:15 – 5:15 pm and Sundays 12 – 2 pm. Sessions will cover reading and writing drum scores. For more info or to sign up, reach out to Mario at drummer.training@blandfordbands.org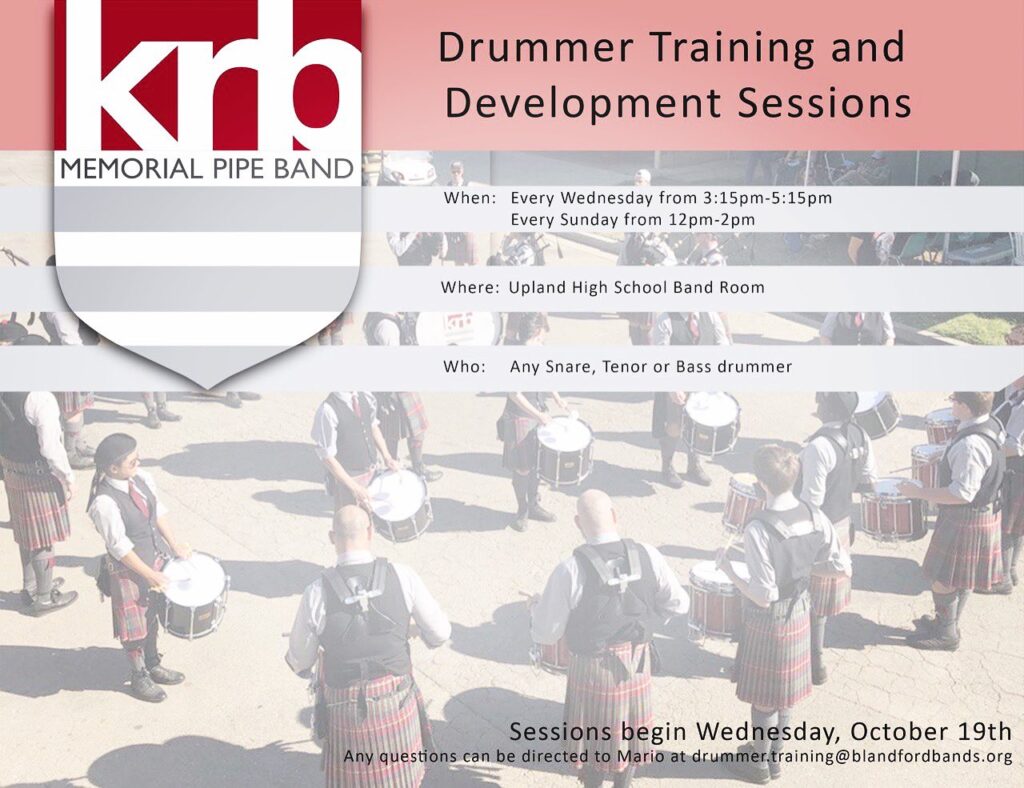 The Kevin R. Blandford Memorial Pipe Band was founded in 1974 as the City of San Bernardino Pipe Band. The current name was assumed in 2003 in honor of the late Kevin Blandford. The Band, under the direction of Pipe Major Alexander Walker and Drum Sergeant Carl McEntire, fields two competitive ensembles, a Grade 4 and a Grade 3, and can be found performing at a variety of events in Southern California and across the United States. If you are interested in hiring the Band please visit our contact page.
The Kevin R. Blandford Memorial Pipe Band is a registered 501(c)(3) nonprofit organization with the IRS as R. P. Blandford & Son Pipe Band. All donations and purchases are tax deductible. For more information, please contact the Executive Board at: executiveboard@blandfordbands.org.