We are excited to be back competing again! This year we have attended the Costa Mesa Highland Games in Southern California and we have traveled to Nevada for the Las Vegas Highland Games and Arizona for the Phoenix Highland Games. It has been a successful season thus far, most recently taking 1st place in the Grade 3 Medley contest and 2nd place in the Grade 3 MSR contest at the Costa Mesa Scottish Fest. Next up is the San Diego Highland Games in Vista, CA June 25 – 26th, see you all there!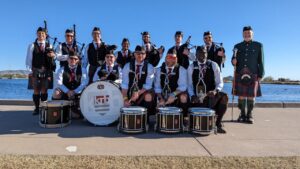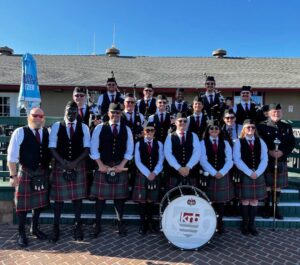 The Kevin R. Blandford Memorial Pipe Band was founded in 1986 as the R.P. Blandford and Son Pipe Band. The current name was assumed in 2003 in honor of the late Kevin Blandford. The Band, under the direction of Pipe Major Martha Hall and Drum Sergeant Justin Hall, fields two competitive ensembles, a Grade 4 and a Grade 3, and can be found performing at a variety of events in Southern California and across the United States. If you are interested in hiring the Band please visit our contact page.
The Kevin R. Blandford Memorial Pipe Band is a registered 501(c)(3) nonprofit organization with the IRS as R. P. Blandford & Son Pipe Band. All donations and purchases are tax deductible. For more information, please contact the Executive Board at: executiveboard@blandfordbands.org.