The original R.P. Blandford & Son Pipe Band was formed in 1986 by founding Pipe Major Kevin Ray Blandford. The band was named after its sponsor, a British import store in Redlands, California; the store was the Blandford family's business, which opened in 1983. Kevin taught bagpipe lessons at the store, averaging 20 students per month. In 1991, Kevin began instructing the Upland High School Pipe Band. In 1994, the R.P. Blandford & Son Pipe Band officially became a member of the
Western United States Pipe Band Association
and entered its first competition at the Highland Games in Costa Mesa, California.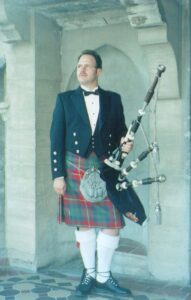 Kevin's musical talent, teaching and leadership skills, and his ability to work with a diverse group of people contributed to the making of one of the most successful pipe band organizations in the United States. Kevin led the band to several West Coast championship titles and a 2nd place award at the 2000 World Pipe Band Championships in Scotland.
After Kevin's passing in November 2003, the band changed its name to the Kevin R. Blandford Memorial Pipe Band. Kevin's dear friend and successor, Matt Nonnemacher led the band to many more prestigious titles, including a 3rd and 5th place finish at the World Pipe Band Championships in 2004 and 2007, respectively.
The Blandford organization now has over forty pipers and drummers and continues to grow. The band draws its members from throughout the "Inland Empire" region of Southern California and from as far away as Apple Valley, Pacific Palisades, San Francisco, and Denver, Colorado. The band boasts of a membership representative of California's diversity.
In addition to competing across the Western United States, Canada, and Scotland, the band also performs more locally at church services, graduations, parties, and parades throughout Southern California.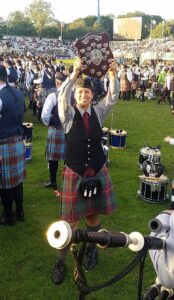 The band wears the muted Roxburgh red tartan, a favorite of Kevin Blandford.
The band is currently led by Pipe Major Martha Hall and Drum Sergeant Justin Hall; under their leadership the band placed 6th at the 2017 World Pipe Band Championships.
For a more detailed history of the late Kevin Blandford and the R.P. Blandford Store, please read an article written by Paul Blandford, Kevin's father, for the Scottish Society of the Inland Empire newsletter.